1691-2006
SEIGNEURIE DE BEAUPRÉ : ANGE-GARDIEN
A farm which fed 11 successive generations
Text by Raymond Bélanger©
HOMMAGE to FRANÇOIS BÉLANGER and MARIE GUYON, PLAQUE SITUATED AT E AU 6117 CHEMIN ROYAL, ANGE-GARDIEN, QUÉBEC.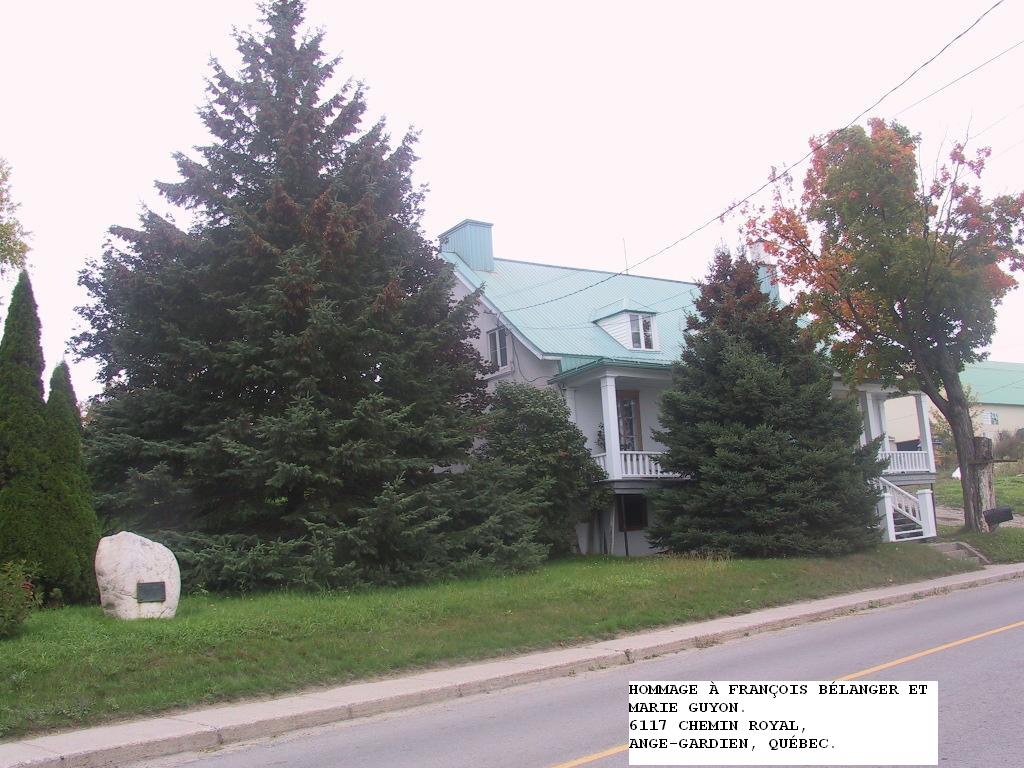 Contrary to the affirmation of several historians who say this farm (No 20 at Ange-Gardien with a current addrerss of 6117 Chemin Royal) is the birthplace of the Belangers in America, we are currently certain that it was never the property of Francois & Marie Guyon. Referring to the research of Raymond Gariépy in his volume Les terres de l'Ange-Gardien (the farms of Ange Gardien), we know it was purchased, due to the "right of lineage" per the custom of Paris, by Charles Bélanger, the ancestor of the children of Francois on 10 September 1691 for 2000 livres.
The 15th of February 1654, Jean de Lauzon, then governor, had conveyed to Jean Guyon, married 27 November 1645 to Élisabeth Couillard. This farm of 5 arpents of frontage by 126 arpents deep was surveyed by Guillaume and Louis Couillard was conveyed to Jean Jean Guyon, the son and royal surveyor, and not to Jean Guyon, the father married to Mathurine Robin. Raymond Gariépy, in contradiction to many historians, does not mention that three days later (the 18th February) Jean Guyon and Marguerite Couillard had given a portion of 20 perches to their daughter Marie as a wedding gift.
"...Le 17 novembre 1691 (Jacob), Jean Guion vendit sa terre à Nicolas Trudel qui la revendit à Mathurin Huot le 20 novembre 1691. Ce dernier avait épousé Marie Le Tartre (soeur de Barbe, épouse de Nicolas Trudel) le 25 novembre 1671. Le contrat de vente du 20 novembre 1691 ne se trouve pas au minutier de Jacob, mais on en connait l'existence par un acte du 9 décembre 1691 (Jacob), résiliant la vente de Nicolas Trudel à Mathurin Huot."
( A true family affair as, within 8 days, the property changed hands as follows:
Jean Trudel married to Marguerite Thomas, 19 November 1655, to a son named:
Nicolas Trudel married to Barbe LeTartre, 7 January 1684, daughter of
René-Pierre Du-Tertre and Louise Goulet, 1654, and sister of
Marie LeTartre who married Mathurin Huot, 25 November 1671, ) - relation established by Armand Bélanger.

Genealogy of Marcel Bélanger


1. François BELLENGER (7 Oct 1612-1687) m 12 July 1627 Marie GUION (18 Mar 1624 - 20 Aug 1696)
.2. Charles BELLENGER (19 Aug 1640-14 Dec 1692) m 21 Nov 1663 Barbe-Delphine CLOUTIER (11 Jan 1650 - ??)
..3. François BÉLANGER (1666-27 Apr 1733) m 18 Apr 1689 Catherine VOYER (1680-1715)
...............................................................................m 14 Nov 1715 Marguerite PARÉ (1690-)
...4. Louis BÉLANGER (13 Sep 1698) m 6 Feb 1720 Marie-Anne PARÉ (1702)
....5. Claude BÉLANGER (1732) m 26 Nov 1753 Marie VÉZINA
.....6. Claude-Charles BÉLANGER (13 Jan 1766) m 1791 Marie-Marguerite VÉZINA
.......7. Louis BÉLANGER m 1825 Luce ROY
........8. Augustin BÉLANGER m 8 Jan 1856 Salomée GIROUX
.........9. Théophile BÉLANGER m 18 Oct 1892 Anna LABERGE m 3 July 1899 Lumina LABERGE
..........10. Georges BÉLANGER m 1931 Louise BÉDARD
........11. Marcel BÉLANGER m 17 Sep 1966 Michelle GAUDREAU at Ange-Gardien, Qué.
...............12. François BÉLANGER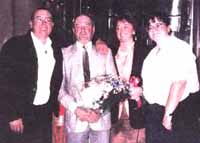 François Bélanger, son
Marcel Bélanger
Michelle Gaudreau/Bélanger
Danielle Bélanger, daughter